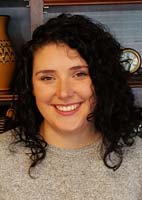 Megan Colletti, MS, OTR/L has been working in Occupational Therapy since 2011. She completed her graduate work in 2017 at Belmont University receiving her Masters of Science in Occupational Therapy degree. Her experience includes clinical practice in an in-patient rehabilitation and acute care setting at a level I trauma hospital. Megan has continued education and experience in stroke and spinal cord injury rehabilitation.
Megan is a member of the Phi Theta Epsilon honor society for Occupational Therapy students and alumni. She completed one of her fieldworks at Middle Tennessee University, assisting with research into interventions used for clients with spinal cord injuries. Megan has a passion to see Occupational Therapy practitioners using evidence based interventions in all areas of practice.
Megan joined the PCET team in 2017, excited to provide additional insight into the multidisciplinary team approach through the use of current evidence based interventions and building a research program in order to provide clients with the highest level of care possible.